If you are a business owner, you want to attract potential customers with your services or products. The best way to do it is by creating great content that is going to generate traffic on your website. Most likely, you don't have the time or expertise to create a unique and valuable blog. Here is where professional blog writers can help you.
Why Do You Need Blog Posts for Your Site?
Whether you are a blogger or an owner of a company, you should never underestimate the importance of blog posts. With so much content on the internet, you need to stand out to be noticed by search engines. Google, Yahoo, and others prefer unique, brand new content. They look for it while ranking websites.
Nowadays, keyword overload is not going to help your page, and it can even make it rank lower. You need a high-quality post. The more high-quality content you publish, the higher you are going to be rated by the search engine. In short, the better your blog is, the more traffic your page gets.
Sites that have blogs have 434% more indexed pages, but it's not only about traffic. Thanks to blog posts, you can also increase brand awareness. You want to be an authority in your industry and creating a blog can help you achieve this goal.
Nowadays, most customers search for products and services online before deciding to contact a brand. This is why, even if you own a local coffee shop, yoga studio, or flower store, you should have a webpage with a blog.
Why Is It Worth It to Hire a Professional Writer?
If you run your business, you most probably don't have much extra time. An average blog post takes around three hours to write. Moreover, you might not be able to write catchy, grammatically correct, well-flowing content yourself, and that's alright – you are a professional in another field.
Professional bloggers and writers know how to create engaging content that is going to catch attention. You might also be a good writer, but nowadays, good text is not enough. You have to have basic knowledge about keywords, SEO, and other things.
If you want to make your webpage visible, you should also look for a high number of articles. As a person involved in a business, you might not have time to focus on this important task.
How Much Does It Cost to Buy a Blog Post?
There is no universal price that would suit all blog posts. The final cost depends on various factors. A crucial one is the experience of the writer and the quality of the posts they can deliver. Writers who have worked in the business for a long time and are known for turning out high-quality content are going to ask for more money.
Another thing that can increase the price is the topic. Technical writing and difficult-to-understand topics might cost more, as they require extended research or specialized knowledge. If you need a blog about popular cosmetics, you would most probably pay less than a person who needs a blog regarding advanced biological technologies.
If you work directly with freelancers, you always cut out the middleman, which means you can reduce costs. Often, online marketing agencies offer blog writing as a part of big packages. However, you might not need all those services.
How to Choose Blog Writing Services
On the market, you can find a lot of companies and freelancers that offer writing services. Picking one can be time-consuming and a bit confusing if you don't know what to look for. Here are some tips regarding what to pay attention to while searching for a perfect candidate:
Create a List
It is easy to type "article writing services" in a search engine and pick the first one that pops up. However, this can cost you a lot of money and leave you with unengaging content that is not going to help your business grow.
Instead of settling for an unknown company, try to make a list of contenders that you consider. You can ask your colleagues and friends for a recommendation. You can also do your research and check pages such as Reddit or Quora, on which clients leave their reviews.
Another option to find a list of top 10 candidates is searching on various webpages that create a set of best writing companies based on first-hand experience.
Be Sure That Your Company Has a Good Reputation
You want your blog to look professional, so you have to work with people who take their job seriously. You can narrow down the list of potential companies by checking their reputations. Customers' reviews might be helpful.
One option is searching for reviews online. You can also ask people who used the services of the company for an honest opinion. Pages such as the Better Business Bureau are also a great tool to verify if the company has complaints and bad reviews.
Another way to verify if the company is legit and professional is to ask for customer referrals. Then, you can give a customer a call and ask for an honest opinion regarding their experience with a writing services company or freelancer.
Be Sure That the Chosen Company or Freelancer Has Experience
When you pick a company or a freelancer with good reviews, most probably they have great experience in writing, but it is not enough. You have to verify if they also know about your business's niche.
Make sure that the company you pick works with people who are experts in your niche. If you contact an individual writer, verify their skills too.
The tone of your blog has to fit your brand's voice. You want your texts to sound professional and informative, rather than persuasive. This is how you can verify if someone has a deep knowledge of your niche.
If a writer doesn't understand the language of your business or trading phenomena within your niche, they are not going to be able to communicate with an audience. Let's say you have a yoga mat brand. Now, imagine that the writer you pick never practiced yoga, and has no idea about the philosophy behind it. How is the text they're going to write going to connect you with your audience?
To verify if the company meets your standards, you can check its company blog or read their writing samples. You can also ask for a trial article according to which you are going to decide if you want to continue with the picked candidate.
The other way to verify if the company or freelancer knows about your niche is by asking them directly. As an expert, after a few minutes of conversation, you are going to be able to verify if the people you want to hire know what you are talking about.
Don't Forget That Now You Are the Customer
As a business owner, you know how important great customer service is. You might be a perfect seller, but if you lose the trust of your clients, you need to rebuild it very slowly.
When you order writing services, you are the client, and you can and should expect the best customer service. If you pick a company that fails your expectations, don't feel bad about leaving it. If you don't get responses, or wait for information for a long time, just take your money elsewhere.
You shouldn't argue and fight for what was promised to you. If the company or freelancer cannot meet deadlines, delivers poor quality content, or fails you in any other way, don't waste your time and money.
Simply put: expect to be treated the same way or better than you treat your own clients.
Check How Much It Costs and How Long You Have to Wait
Once you have a few shortlisted candidates with whom you want to work, time for the straightforward things. Verify what is your required turnaround time and how much you can pay for one article.
If you want to post 20 long articles a week and are heading towards hiring a freelancer, verify if they can deliver this amount of content in good quality. You want your content to be posted regularly and without delays, so if the company or individual cannot meet deadlines, you should pick someone else.
Each business has a budget, and you might not have much spare money to pay for writing services, but never compromise on quality. A blog is becoming your client-facing place. If they notice that the content is badly written, not edited, has typos, and not much interesting information, they are going to think poorly about your product and services.
Verify If the Company or Freelancer Includes Revision Services
You want to get the best services and if the writers don't meet your expectations, you should be able to ask for a revision. Of course, this should be within reason. The best idea is to set up a clear vision of how you want the article to look and present your requirements to the writer.
Some companies can charge you for extra revision, while others offer them free of charge. However, most of them have a limited number of free revisions. That might not sound good for you but imagine that someone asks you to redo your services five times. If you fail to deliver a good service, that's one thing, but if your client changes their concepts in the meantime, you don't want to work for free.
Verify Customer SEO Success Rates
You want to have great content on your blog to generate traffic on your website. This is why you should check if the company can prove that the content that was created has proven results.
You can ask a company to show you customer SEO analytics. If the answer is: we don't use SEO analytics, run away and find someone who knows what they are doing.
The knowledge of SEO best practices is a must. You can find a great writer who can create an extremely interesting article, but if they don't know how to do SEO, you might be wasting your money.
Avoid Plagiarized Content
While hiring a content creator, whether it is a company or an individual, you need to remember you want original content. Plagiarism is a very bad practice and can make your webpage look bad, or even get it blocked. Here is some information regarding plagiarism:
What Is Plagiarism?
Put simply, plagiarism is copying content from one website and publishing it as your own, without mentioning the original author. Nowadays, a tremendous amount of digital content is produced every day. This is why someone might unknowingly create content that was written in the past.
It doesn't have to be the whole article, but just one paragraph, or even a sentence that is exactly the same as in the other article. This is why all your content should go through a plagiarism check before publishing.
The Danger of Plagiarism
Plagiarism is nothing else than stealing someone's work. This is why you want to avoid it on your company blog. You don't want people to think that you stole someone's property, as that can ruin your brand's reputation.
It can even lead to a legal case against the company that published the content and the writer who passed it though. When you have a blog, you have to run a plagiarism check. Otherwise, Google's algorithm can blacklist your website. Algorithms can easily spot and ban plagiarized content. When that happens, they can move your website to the SERPs.
Good writers always offer a plagiarism check. They can be run quickly using online tools such as Copyscape, for example. Always verify if the content you received was checked: you can run a plagiarism check yourself or request a screenshot of the results from the writer that you work with.
What Type of Content Can Be Requested?
Writing services companies are often specialized in various types of content. Most of them offer blog posts, web writing, emails, newsletters, product descriptions, and more. If you consider boosting your brand, you might consider hiring a writer or company who can focus first on a blog, and then develop the rest of your website. This way you can give your brand a concise voice.
What to Choose: A Freelancer or Blog Writing Services Company?
If you decided on creating a blog for your brand, you're most probably wondering if it would be better to contact a blog writing services company or a freelancer. There is no clear answer to this question and the final decision is yours. It should be based on your individual needs, budget, and requirements. Here are some pros and cons of both options.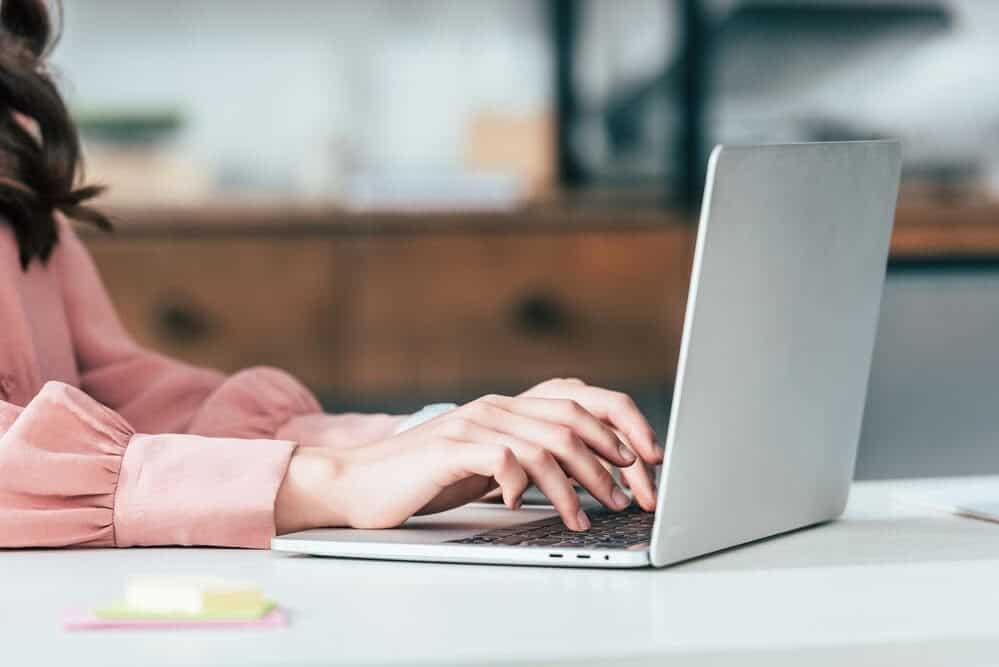 A Company – Pros
Possibly More Tools Than Freelancers
A company that is specialized in writing services might have access to more tools than freelancers. As they cooperate with more clients at the same time, they also have a bigger revenue that allows investing in modern digital technologies that help to follow SEO practice, setting trends, etc. While it might not be necessary for your blog content, it's definitely worth remembering.
Perfect for Work in Bulk
If you have multiple companies or need a lot of content, a writing services company can be a better choice for you. A freelancer might not be able to produce as much content as you wish. The other option is hiring a few freelancers to work for you, but then you are going to spend much more time communicating with each of them.
Finding the Best Candidate
A good company can find a writer for you that has suitable experience. Thanks to this, you save time that you would spend on testing a freelancer. You just tell them what you want, and they deal with all the rest. That means you can fully focus on your business.
A Company – Cons
Lack of Direct Communication
While working with a company, you are not going to have direct contact with the writer who creates texts for you. That makes communication less straightforward. You are going to explain everything to one person, who then passes all data to the writer. In this system, misunderstanding is much easier. Moreover, you might need to wait longer for a reply to your questions, as the communication goes through at least two people.
A Freelancer – Pros
Possibly Cheaper Prices
By choosing a freelancer, you can cut out the middleman. Sometimes companies charge much more than paying for their writers. That means that by choosing a freelancer you can still get great quality content for a lower price.
Experts in the Field
Writing companies have their teams of writers. The more topics a writer can cover, the better for the company. However, it doesn't mean that the writer who is going to create articles for you from a company is a professional in your niche.
While hiring a freelancer, you can verify if they know your business. You can ask them for information regarding education or similar texts they have already created. This way you are sure that the content is going to have high-quality expertise.
Easier Communication Thanks to Direct Contact with the Writer
When you work with freelancers, you contact directly with them. Imagine that you decided to add an extra paragraph to the requested text. If you contact the writer directly, there is a chance that they're going to reply quickly and share their opinion with you, without unnecessary waiting.
While contacting directly, there is much less chance of misunderstanding.
A Freelancer – Cons
Possibly Fewer Tools
Freelancers work individually, which means they might have fewer analytic and SEO tools compared to a writing services company. The tools might be less advanced.
Possibly Slower Turnround
If you need content to be turned in quickly, you should always verify if the freelancer can meet the requested deadlines. Some writers might be able to create 20000 words a day, but it's rather rare. Moreover, most of them work with a few clients at the same time. This is why you should agree to a particular amount of content at the beginning of your cooperation.
Searching for the best freelancer might be a bit of a pain. You might also need time to verify their skills and check if they really are experts in the field.
Always Pick Professionals
Whether you have decided on a company or an individual, always check the quality of the content and how professional it looks. If you use an unprofessional writer, your clients are going to notice.
Your blog can be a very powerful tool that can help you with business, but if you are going to put it in the hands of a person who doesn't know what they are doing, you might hurt your brand. Bad quality makes you less credible in the industry and can destroy your reputation as an expert.
Conclusions
Like with everything in the business, you need to have a strategy for blog writing content. Once you know what you want, you need to find a perfect person who can realize your ideas and make them bring profit to your business.
While deciding on a person or company that you are going to work with, always look from a business point of view. Decide what solutions are the best for your company and expect writers to realize them. Put yourself in your clients' shoes and request the best quality work.
Remember to pick professionals who know your niche and are able to deliver deep, meaningful content that is going to add value to your blog. Never just settle for unique writers. You also need the content to bring traffic to your website. A perfect company or freelancer has the know-how of SEO and can implement it while writing blog posts.
To summarize, good content is going to cost you money. Never settle for lower quality over price. If you decide to invest in proper blogging, you are going to quickly notice a boost in your revenue, increase traffic, and higher customer retention.